Using pedal power to move loads seems to be coming into fashion
From the
Guardian.co.uk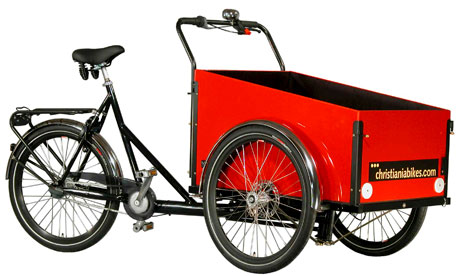 The Dutch trike ceased to be widely used because, in comparison with anything motorised, it was too heavy, too strenuous and too slow. But car-clogged streets and common sense are causing conventional wisdom to tilt markedly back towards a school of thought which says, from a work aspect, that if something which needs moving in the city can be plausibly moved by a cyclist, then it probably should be. But the trick is getting people to want to do so.
Because here's an odd thing about cargo bikes. You get one as a means to having the potential to move bulky or heavy loads between A and B under your own steam. But whether you wind up using it with any sort of regularity can often depend almost entirely on how you feel about the way it rides "empty".
In order for your cargo bike to even stand a chance of becoming your default bike, it needs to be an attractive riding option – that means it must be relatively light. Sadly, most two-wheeled front loader cargo bikes up until a few years ago tended to tip the scales at a tiring 35 kilos, even when empty..
These sort of numbers have resulted in people using the bike not only when they have something to carry, but simply to get around. And it's also had the healthy knock-on effect of causing many builders of steel frames to figure out ways of shaving off a pound here or there.
The take-up on Bullitts has been good, it seems. I live in Berlin and bought one late in 2008, taking the city's total to three. Now there are about 50.
I asked Hans Fogh from Bullitt last week about the current state of the cargo game. He was cagey, but upbeat, telling me without mentioning specific figures that each year in business had seen an improvement.